[Note: This was originally drafted back on the 12th of April, 2015]
Photo credits to DigitalBrew
I have started exploring promising Burger joints (which are about to be recognized by the mainstream market) back in the late 2013 — the date when I first visited Zark's Burgers in Eastwood City-Libis and from the time I tasted Zark's, it made me dissed the Quarter Pounder of McDonald's even more. #Realtalk naman kasi, hindi mukhang quarter pounder ang Quarter Pounder ng McDo. It's more like a eighth or tenth pounder. A year later, I tried Mama Chit's, then Chef Boyong's and their big-size burgers are even bigger than the quarter pounder of McDo.
I have started trying Mama Chit's sometime in December 2014, then Chef Boyong's in January 2015. Around March or April 2015, I started making a visit to Chevy's Burger and tried two of their burgers and while not as delicious as Chef Boyong's or even Mama Chit's, still, the pattie quality of Chevy Burgers is satisfactory enough as well as the bun they used. I even loved their Chevy Belly, which has chicken spread besides the cheese, mushroom and beef burger patty. I am a fan of chicken spreads as long as the mayonnaise used is not the ones you can buy from public (side note: something like, Lady's Choice Mayonnaise, Best Foods Real Mayonnaise, American Maid, or even Kewpie Japanese Mayo)
Below are the shots of their menu courtesy of Zomato: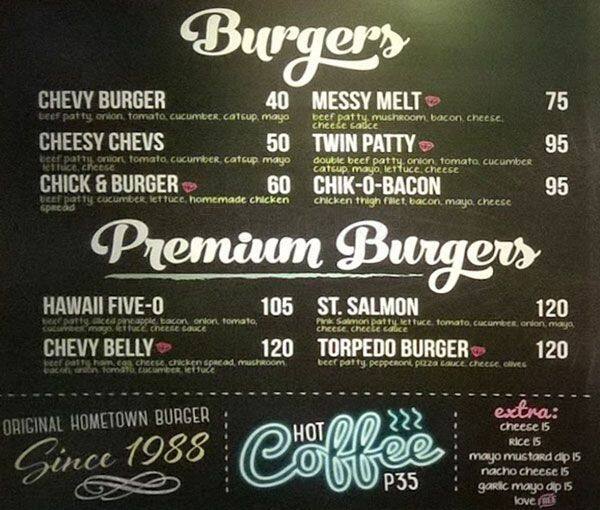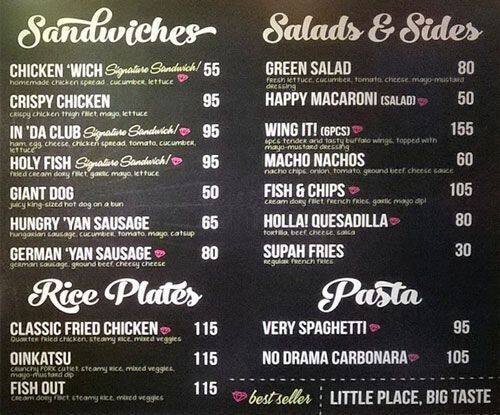 The place of Chevy's Burger in J.P. Rizal Street in Calumpang, Marikina is relatively small, so this place is not for claustrophobics and for those who are not a fan of small places. However, just like Mama Chit's and Chef Boyong's, Chevy's Burger's place is also structured uniquely, retrospective of 1960's diner. Before I forget, I also tried Johnny Rocket's Burgers in Eastwood City, Libis. Mahal nga lang sa Johnny Rocket's.
I have yet to try their pastas and other sandwiches, just that, in the case pastas, I rather look for pastas that are too unique for my eyes. Ang common lang kasi kung puro spaghetti or carbonara rin lang naman ang matitikman ko eh.
So what burgers have I tried at Chevy's? Chick & Burger, Messy Melt, Chevy Belly.
My verdict — all SATISFYING.
Also, what do Chevy's, Mama Chit's, and Chef Boyong's have in common? They are all Marikina-born, and hometown burger houses such as these makes living in Marikina more fun. Another thing, these Marikina-born burger houses GRILL their burgers, not FRYING THEM, so that is another advantage to those who are not a fan of greasy burgers. They are not as sophisticated as any restaurants you see in Eastwood, McKinley Hill, Bonifacio Global City or even Ayala Avenue, but they never fail in making their place presentable enough as well as serving real good food without being expensive.
So far, I give Chevy's 4 out of 5 stars.
Meanwhile, I am looking forward to try more Marikina-born burger joints like these:
Fat Daddy's Smokehouse
The Snack Shack
Barneys Burger
Bun of Brothers
Bacon Avenue
Cheddar Burst Burgers
GoodBurgers
Burger Brewster
Peter's Wingers & Burger Shack
Bleau Grilled Burgers
88 Tavern
House of Burgis
Papa Rock's Big Burgers & Grillery
Anvaya Bread and Deli
… and MANY MANY MORE!